Last week, I kept hearing from every Tom, Dick and Harry how excited they were about the olympics. I really didn't understand all of the hullabaloo since I'm more of a winter olympics kind of gal myself. I think it's because I was raised in the Age of Kristi Yamaguchi.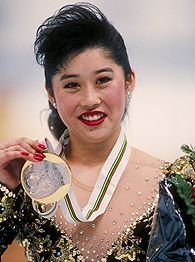 Nice coif Kristi
Much to my surprise, I was pulled into the olympics vortex courtesy of Becks and the torch. I turned on the opening ceremonies just as he cruised into the marina. I can't say I am disappointed to have missed Britain's Ode to Public Healthcare.
Becks is bringing back the wave.
Missy Franklin is the next Michael Phelps, not Lochte. If she was a decade older and got over her love of the Biebs, maybe we would be friends.
I have never had a crush on a swimmer before, but Nathan Adrian may have changed that.
Woot to Gabby Douglas. She is just the cutest thing since baby bunnies. I'm looking forward to seeing her face everywhere.
I really didn't think I'd watch much. But then two nights this week, I went to check the time and it's about fourteen hours past my bedtime. Anyone else enjoying the games?